Welcome to the Seeds of Life Raw Food Cafe & Tonic Bar
We've got a bit going on here so allow us to give you the tour. We have a Raw Food Academy here in Ubud, where we teach people the art of creating Vibrant Living Foods & ways to extract the most nectar out of life. We have been doing Raw Food & Yoga retreats here for many years & this feels like the next step for us, to compliment the many great restaurants and events in Ubud showcasing where the Living Food movement is at.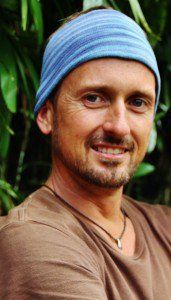 My name is Ben Richards, Ultimate Nutrition, Holographic Kinetics facilitator, Raw Food Chef, Teacher and Consultant with a strong focus on nutrition, superfoods and tonic herbalism. Author of 'Intuitive Flow' massage technique and Life Coach/Seed Planter.
For 20+ years I have travelled, studied and practiced various different modalities from Swedish massage, Deep Tissue and Trigger Point Therapy, Sports Massage, Structural Integrity, Thai Massage, Myofascial Release, Acupressure & courses in Acupuncture, Crystal & aromatherapies, Shamanism and energy work outside the field of traditional therapies. This spawned a massage technique I called 'Intuitive Flow' which had a profound effect on me as through this I was understanding the story of a person's life and ultimately, how our thoughts create our realities. Many of these systems only treat the effects, applying a 'band-aid' over the issue. This drove me deeper. For the last 11 years I have been an active facilitator of Holographic Kinetics, the most effective modality in healing our spirit of its traumas I have found. It addresses and clears the causes of imbalances arising from our past lives, from the morphogenetic field (genetic hereditary line), or from inter-dimensional interference.
Hospitality has been the financial driver for my studies & after 25+ years working within the industry from both dodgy & award winning kitchen teams to cocktail bars, managing high end restaurants & food and beverage outlets in 5 star hotels. I have developed a passion & a keen eye for excellence, quality & a joy for the service industry. I simply coming alive when I am in service & happily offer my passion & skills for you here in Bali & around the world at different events.
"Join Us to Make your OWN Raw Food"
Watch for an interview with David Wolfe & see what Sayuri and I've been doing with the Radiantly Alive team in Bali in 2011/2012